Emma Tattenbaum-Fine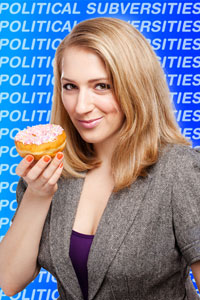 Emma Tattenbaum-Fine is a comedic actress and essayist who writes for The Huffington Post's "Gay Voices" and EveryoneisGay.com. Her satirical and sketch comedy have been featured on Jezebel, BUST Magazine, Huffpo Live, Gawker; in Time Out NY and Comedy Central's Indecision 2012 in Tribeca. She has appeared on PoliticsNation with Al Sharpton, with Reggie Watts in a web series for JASH, Sports Illustrated's sketch show "Extra Mustard", Fusion TV's "Alicia Menendez Tonight" as a correspondent, as a panelist on the podcast Sex for Smart People, and on Amy Poehler's Smart Girls at the Party.
She has created content for Google's Original Channels, Funny or Die (User's Pick), and as a sketch comedian with a residency at YouTube's NY studios.
As a storyteller, Emma has performed live in The Shame Game (Time Out NY Critics' Pick), Emma Koenig's "Fuck I'm In My Twenties LIVE", Mara Wilson's "What Are You Afraid Of" at Union Hall, her one woman show "Laughing All the Way from the Sperm Bank" at the NY International Fringe Festival, and her storytelling shows "Two and a Half Women" and "Queerspawn Prophet" at The PIT and The Fresh Fruit Festival (an LGBT-theater event), respectively.

Emma is a founding cast member of musical sketch comedy group, Political Subversities (Time Out NY Critics' Pick) and is half of the comedy writing and producing team, "Ari and Emma". She is represented by literary agent Alyssa Reuben at Paradigm and is working on a book of vignettes about growing up with two moms, before it was cool.
www.emmatattenbaumfine.com
@emmatattenbaum