Political Subversities returns November 6th 2017 with a new show:
Political Subversities: THERE'S AN ELECTION TOMORROW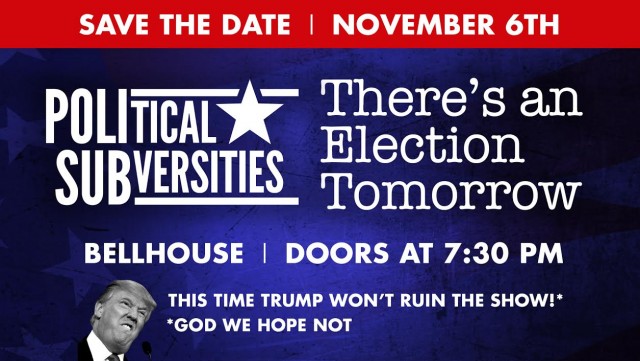 Political Subversities returns for a one night election eve event, digging deep into NYC local politics, while crying havoc against the national status quo, featuring special guest performers, plus organizers from NYC's most politically impactful grassroots organizations.
POLITICAL SUBVERSITIES: THERE'S AN ELECTION TOMORROW
MONDAY 11/6/17 doors @ 7:30pm
At The Bellhouse
149 7th St. Brooklyn, NY
Tickets are $12 adv / $15 door
Available here: http://www.thebellhouseny.com/event/1577480
Announcing the addition of new cast member LaGina Hill!
Initially conceived by Tony Nominee Elizabeth Swados and currently written and performed by a cast as talented as they are diverse, Political Subversities is a dark and hilarious cabaret that aims to break your expectations as well as your funny bone with a breathless barrage of songs, sketches, characters and Broadway-worthy musical numbers.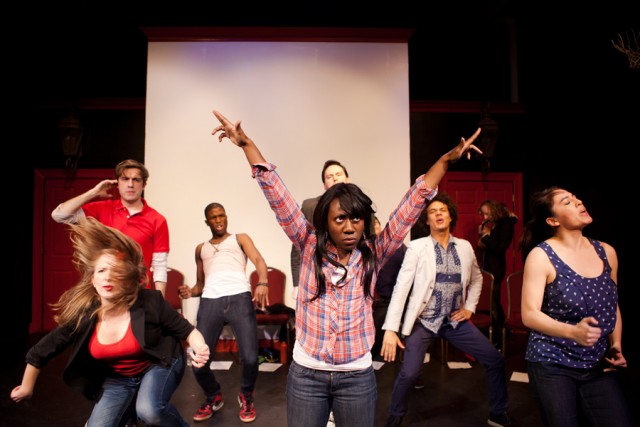 POLITICAL SUBVERSITIES is created and performed by a cast of young, vibrant writers and performers including Todd Dakotah Briscoe (Author of How May We Hate You?), Jabari Brisport (These! Paper! Bullets!), Andrew R. Butler (Finn the Fearless, Parkland/Weathers), Jenna Dioguardi (The Wolves), nicHi douglas (Dance Cartel, The Late Late Show w/ James Corden), LaGina Hill, Preston Martin (Pirate La Dee Da at Atlantic Theater Company), Cyndi Perczek, Emma Tattenbaum-Fine (writer for "Almost Genius" on truTV), Shannon Tyo ("30 Rock", Broadway Bounty Hunter), . Music Direction by Ian Axness (Clown Bar, A Ride on the Irish Cream).
The show also features original songs and writing by Shaina Taub (Public Work's Twelfth Night, Old Hats), , and Matthew Robert Gehring (UCBT Maude Night, Netflix's The Characters, Louie).
The show is directed by Andrew Neisler (2014 Ars Nova Director-In-Residence; Drama Desk Nominee for Charlatan, NYT Critics Pick for Clown Bar), Annie Tippe (NYT Critics Pick for Ghost Quartet, 2015 Drama League Directing Fellow, Ars Nova Director-in-Residence 2016) and Associate Director Charlotte Murray.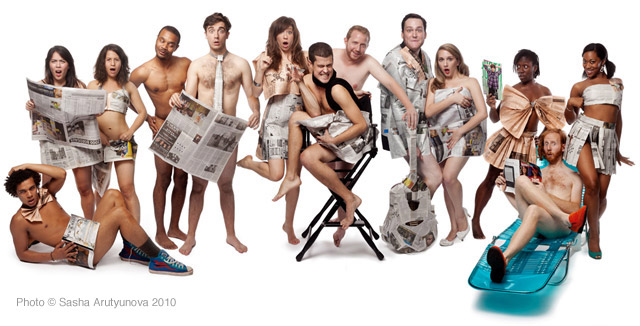 Political Subversities is a musical-sketch comedy show that serves up a spectacular roast of politics and pop-culture. An ensemble of New York's freshest actor/comedians seamlessly perform a barrage of satirical sketches, political love songs, electoral rap battles, Broadway-worthy show stoppers, and cultural assassinations. Tight harmonies, sharp choreography, smart writing and a cast that actually looks like the country they love to rip to pieces makes Political Subversities a must see!
Imagine a Venn diagram of The Daily Show, Glee, Avenue Q, Saturday Night Live and South Park. Political Subversities is there in the middle.
The cast both writes and performs the show, bringing their backgrounds as actors, playwrights, sketch comedians, musicians, and musical theatre composer/lyricists to craft a show with impressive musical content, razor sharp theatre and intelligent sketch comedy.