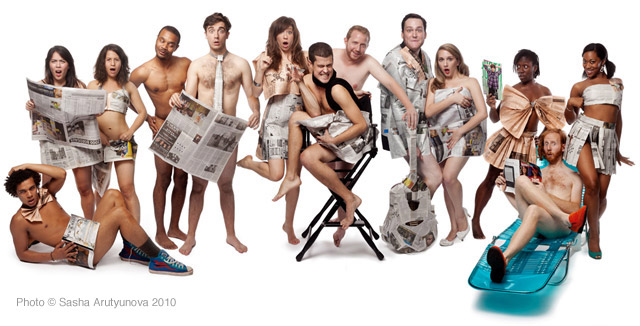 Political Subversities is a musical-sketch comedy show that serves up a spectacular roast of politics and pop-culture. An ensemble of New York's freshest actor/comedians seamlessly perform a barrage of satirical sketches, political love songs, gangsta raps, Broadway-worthy show stoppers, and cultural assassinations. Tight harmonies, sharp choreography, smart writing and a cast that actually looks like the country they love to rip to pieces makes Political Subversities a must see!
Imagine a Venn diagram of The Daily Show, Glee, Avenue Q, Saturday Night Live and South Park. Political Subversities is there in the middle.
The cast both writes and performs the show, bringing their backgrounds as actors, playwrights, sketch comedians, musicians, and musical theatre composer/lyricists to craft a show with impressive musical content, razor sharp theatre and intelligent sketch comedy.
Political Subversities is:
Todd Dakotah Briscoe
Andrew R. Butler
Ismael Cruz Cordova
nicHi douglas
Matthew Robert Gehring
Stephanie Hsu
Briana James
Preston Martin
Cyndi Perczek
Emma Tattenbaum-Fine
Shaina Taub
Dominique Toney
BGOODMAN

Andrew Neisler - Director
Annie Tippe - Director
Matt Vinson - Artistic Musical Director
Ian Axness - Musical Director
Matthew Entwistle - Music Archivist
Christine Pynn - Stage Manager
Jenna Dioguardi - Stage Manager
Nicole Brodeur - Associate Producer, Advisor